Members of The Church of Jesus Christ of Latter-day Saints try their best to live the Law of Tithing. "Tithe" means ten percent. In other words, we donate ten percent of our income to the Lord in order to support and build His Church. If you have 1000 dollars, you donate 100. If your income is 100 chickens, you donate 10 chickens. If you have 10 children, you donate one child, it's that easy.   … … … Yes, that last line was a joke.
The Church of Jesus Christ of Latter-day Saints is a worldwide church. We have thousands of meetinghouses and almost 160 temples around the world. Tithing helps to build and maintain those buildings. Tithing supports the various needs of local congregations, as well as family history research. We've also got our worldwide missionary and education programs. Those also need funding. Tithing helps to make all of this stuff possible.
Tithing existed in biblical times, but the commandment for the modern Church was initially revealed in 1838 through Joseph Smith.
Some churches will collect donations by passing a plate or whatever around the congregation. That's not how we pay tithing. Back in the olden days, to pay your tithing you'd privately fill out one of these little carbon copy papers, put a copy in an envelope along with your tithing, and secretly slip it to the bishop:
Nowadays, at least in some parts of the world, you can do it online through your account on church-of-jesus-christ-dot-org.
There are a few important things to understand about tithing. First, it's voluntary. If you're a member of the Church, the Law of Tithing applies to you and you should pay tithing. If you want to get baptized you have to commit to live the law of tithing. If you want to go to the temple you'll have to be living the law of tithing. That said, you're not going to get excommunicated for not paying tithing.
Second, nobody you see at Church on Sunday is paid for what they do. The bishop doesn't get paid. The Stake President doesn't get paid. The nursery leaders don't get paid one penny from the Church (even though they probably deserve it). They've got jobs or whatever just like everyone else.
General Authorities receive a living allowance, but in the words of President Gordon B. Hinckley back in 1985, "the living allowances given the General Authorities, which are very modest in comparison with executive compensation in industry and the professions, come from … business income and not from the tithing of the people."
So not all of the Church's funds come from tithing. There is a business arm of the Church. The Church invests, they own farms, property, and businesses that also provide resources, but tithing is the financial law of The Church of Jesus Christ of Latter-day Saints.
A lot of people have the question, "Should I pay tithing on my net income, or on my gross income before taxes are taken out of my paychecks?" The only instruction we have is to give 10 percent of our annual income. Each person has to figure out for themselves what that means. There's not necessarily a right answer. Use your best judgment. The same applies to gifts you receive, scholarships, grants, etc. You have to figure out what a "full tithe" is for you, and then stick to it.
Tithing is often referred to as a commandment with a promise. The late Elder Robert D. Hales taught, "The Lord promises an abundance of blessings. Some of these blessings are temporal, just as tithes are temporal. But like the outward physical ordinances of baptism and the sacrament, the commandment to pay tithing requires temporal sacrifice, which ultimately yields great spiritual blessings."
So those blessings can take any form, which makes paying your tithing a real act of faith. Some people that don't share our faith look at tithing as greedy religious leaders extorting money from the membership. I guess the best way to deal with that perception would be to ask a Latter-day Saint tithe-payer why they pay tithing. Ask them if they feel extorted. Again, tithing is voluntary. When you go to church you have no idea who pays tithing and who doesn't. I think that was the intended result of the scripture,
"Take heed that ye do not your alms before men, to be seen of them: otherwise ye have no reward of your Father which is in heaven. Therefore when thou doest thine alms, do not sound a trumpet before thee, as the hypocrites do in the synagogues and in the streets, that they may have glory of men. Verily I say unto you, They have their reward. But when thou doest alms, let not thy left hand know what thy right hand doeth: That thine alms may be in secret: and thy Father which seeth in secret himself shall reward thee openly."
Learning More: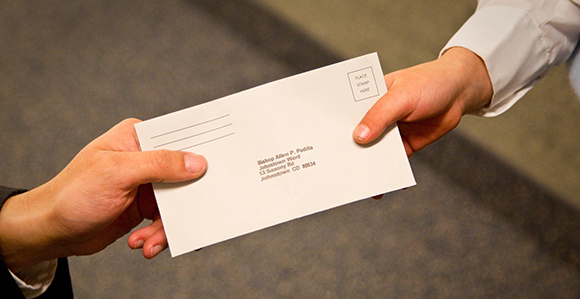 Repentance and sacrifice are foundational laws of God's kingdom. Once we get those laws mastered, we are ready to live higher laws. Tithing is a law of sacrifice. We acknowledge that everything we have is a blessing from the law, and then we give back a portion to show our faith. The higher law related to tithing is the Law of Consecration. A person living the Law of Consecration is willing to part with all his worldly goods, his time, and his abilities, to build up the kingdom of God on earth. Christ's interaction with the rich young man is an example. Christ doesn't ask him to give ten percent, but all he has:
And when he was gone forth into the way, there came one running, and kneeled to him, and asked him, Good Master, what shall I do that I may inherit eternal life? And Jesus said unto him, Why callest thou me good? there is none good but one, that is, God. Thou knowest the commandments, Do not commit adultery, Do not kill, Do not steal, Do not bear false witness, Defraud not, Honour thy father and mother. And he answered and said unto him, Master, all these have I observed from my youth. Then Jesus beholding him loved him, and said unto him, One thing thou lackest: go thy way, sell whatsoever thou hast, and give to the poor, and thou shalt have treasure in heaven: and come, take up the cross, and follow me. And he was sad at that saying, and went away grieved: for he had great possessions (KJV, Mark 10:17 – 22).
The rich young man was living a righteous life under the Law of Moses; therefore, he was living laws of sacrifice demanded of him. But he was not willing to forsake the world and live the higher law. Other followers of Christ, however, were willing. In Acts 4:32 we read about Christ's disciples after the crucifixion:
And the multitude of them that believed were of one heart and of one soul: neither said any of them that ought of the things which he possessed was his own; but they had all things common.
None coveted his own personal possessions but shared freely. So why are we talking about the Law of Consecration when this article is about paying tithing? Because some people accuse the Church of abusing its members by making them pay to attend the temple — only full tithe payers qualify for a temple recommend. First of all, there wouldn't be a temple to attend without members paying tithing (just as there wouldn't be a football stadium if fans didn't pay for tickets). But the biggest reason is that the temple is for higher covenants, greater than repentance and sacrifice. Those higher covenants include a willingness to do what the earliest Saints did — to consecrate ourselves and all that we have to Christ. If you can't keep the law of tithing, you can't live the law of consecration.
The blessings of living the law of tithing are so huge that those of us who have received them are witnesses to the greatness of the law. They are both temporal and spiritual and include personal miracles in abundance. Thus, even when we "give up" ten percent of our increase to God, we remain ever in His debt.